How Much Does it Cost to Lift a Truck?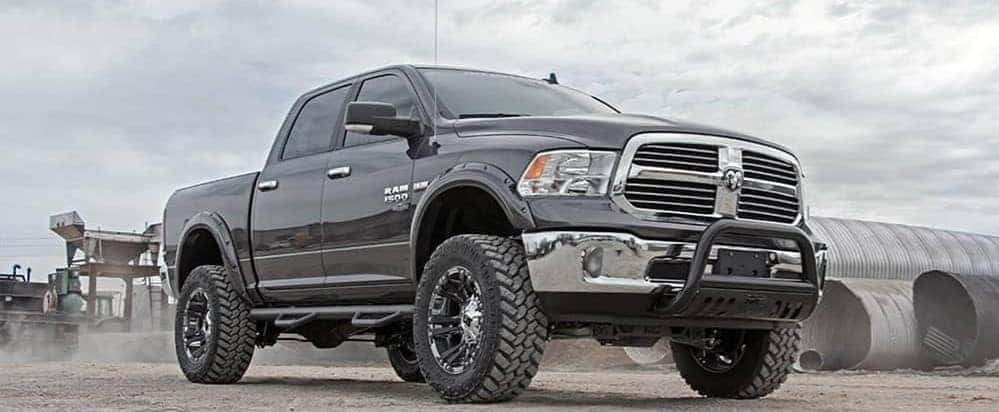 There is nothing more exciting for many Humble drivers than the look, feel, and capabilities of a lifted truck. Depending on what abilities you are looking for, the cost to lift a truck can vary widely based on a number of factors. So, how much does it cost to lift a truck? Contacting our dealership is the best way to get exact information, however we have broken down the cost to lift a truck below to help you get a general idea.
Choose Your Setup: Lift Kits vs. Leveling Kits
In order to find out how much is it to lift a truck, you first need to pick a setup, either a lift kit or leveling kit. The cost to lift a truck can be minimal if you consider the capabilities offered by different kit options. If you are asking, "How much is it to lift a truck?" Explore our parts specials to find opportunities to save! Compare lift kits vs. leveling kits with Northwest Chrysler Jeep Dodge Ram here:
Leveling Kits
If you are looking for a small boost to take on Sugar Land adventures, a leveling kit is perfect for you. They are designed to even out your truck's suspension and will generally add an inch or two to the overall height. If you routinely use heavy accessories like winches on the Cypress jobsite, a leveling kit may be your best bet.
Lift Kits
True lift kits can be categorized by the amount of height they add to the truck. Smaller lift kits will add two to five inches whereas larger versions will raise the truck by six inches or more. Generally, proper lift kits offer more impactful upgrades to your truck's capabilities but are much more expensive than leveling kits. If you are watching your budget and questioning how much is it to lift a truck, you may be wise to opt for a less expensive leveling kit.
Body Lifts vs. Suspension Lifts
If you have decided that a lift kit suits your driving needs, you will need to choose between a body lift and a suspension lift. A suspension lift raises the body of your vehicle to make space for more robust tires. Suspension lifts generally involve more extreme modifications to the body of your truck. Due to the magnitude of change involved with a suspension lift, we recommend only using genuine OEM parts to maintain the structural and mechanical integrity of your vehicle.
Explore Lift Kits and Truck Accessories with Northwest Chrysler Jeep Dodge Ram!
Still wondering, "How much does it cost to lift a truck?" Contact our parts department for specific pricing and guidance for your dream lift. Our team will be happy to help you upfit your truck to tackle the tough tasks you take on. Explore our selection of parts and accessories or stop by our dealership any time in Houston to learn more.